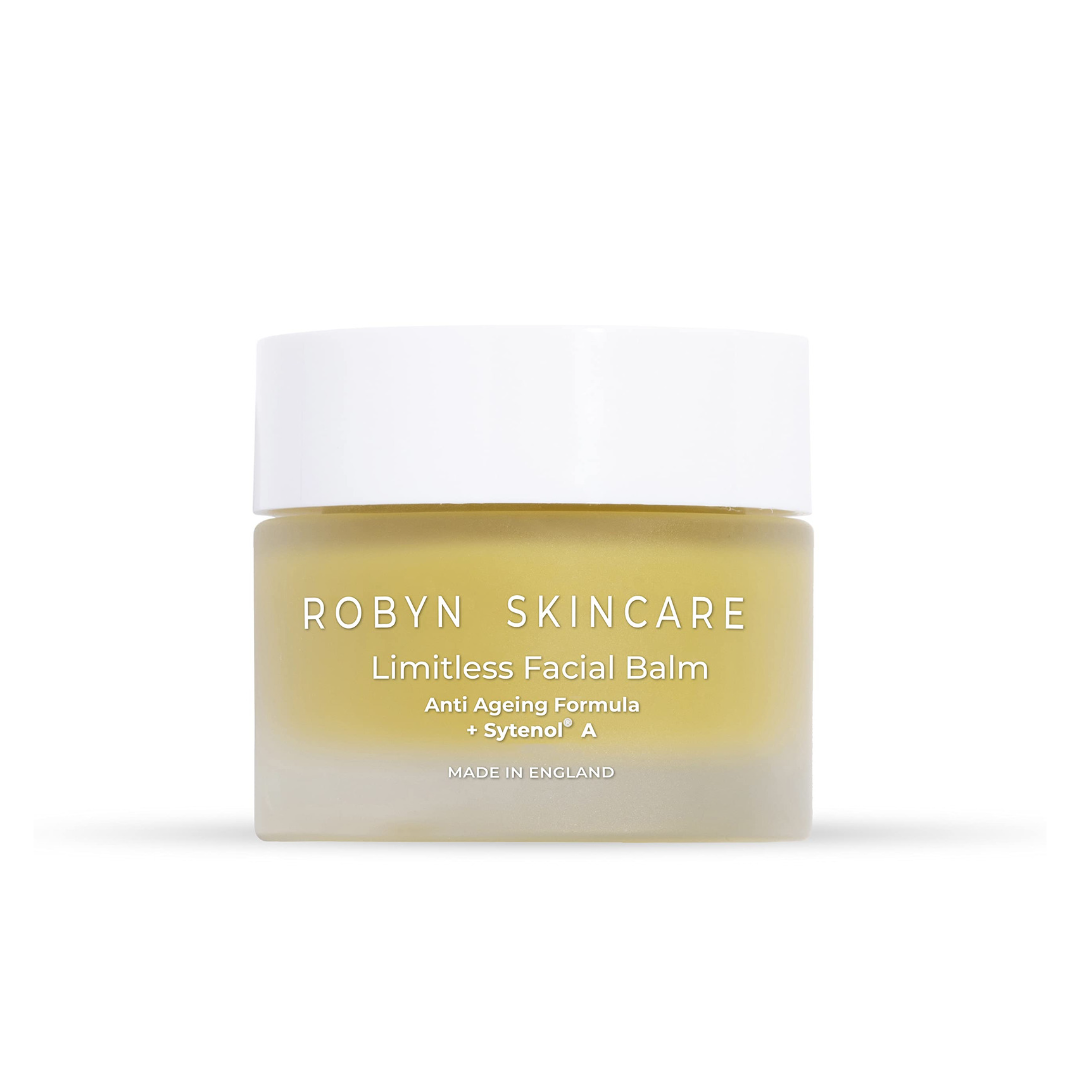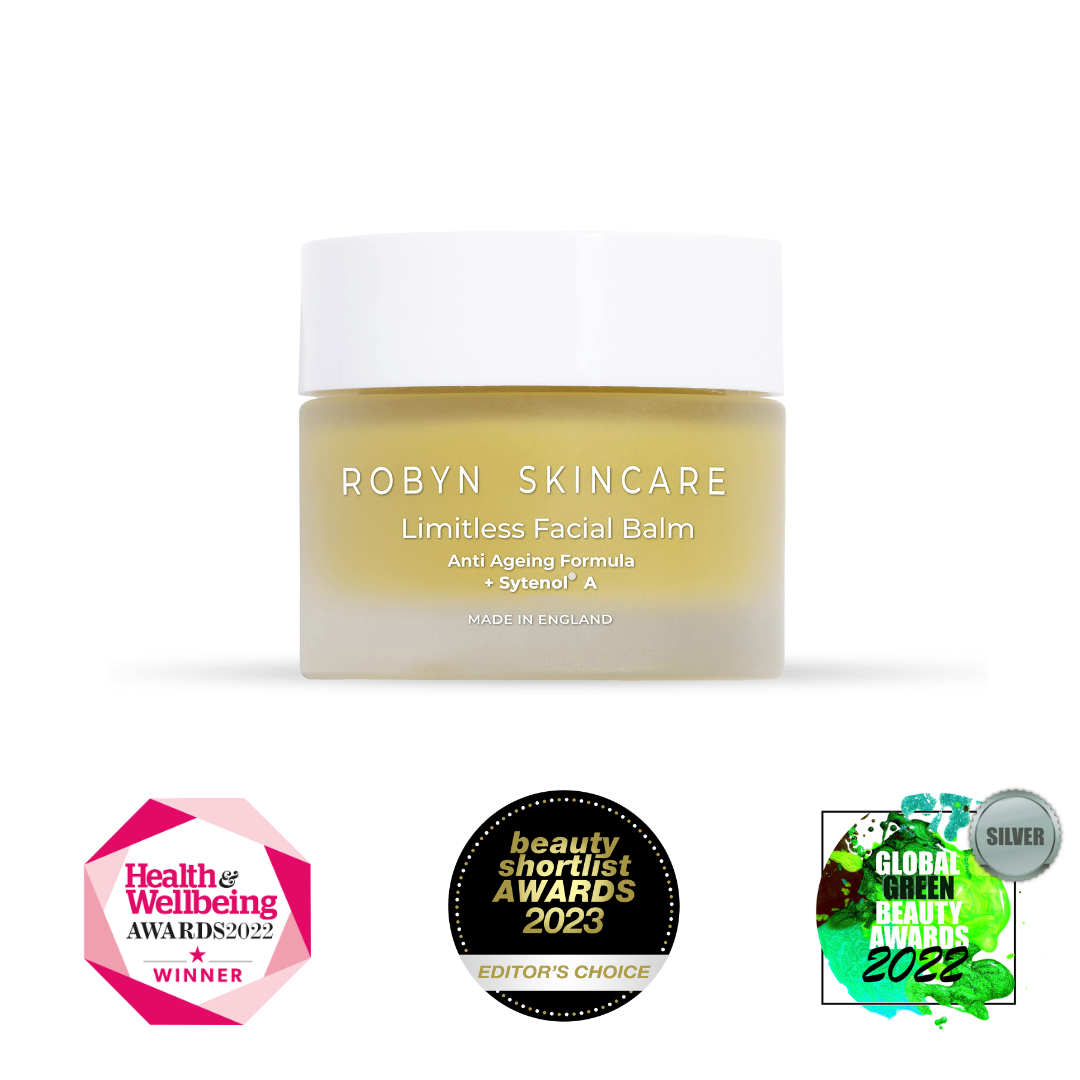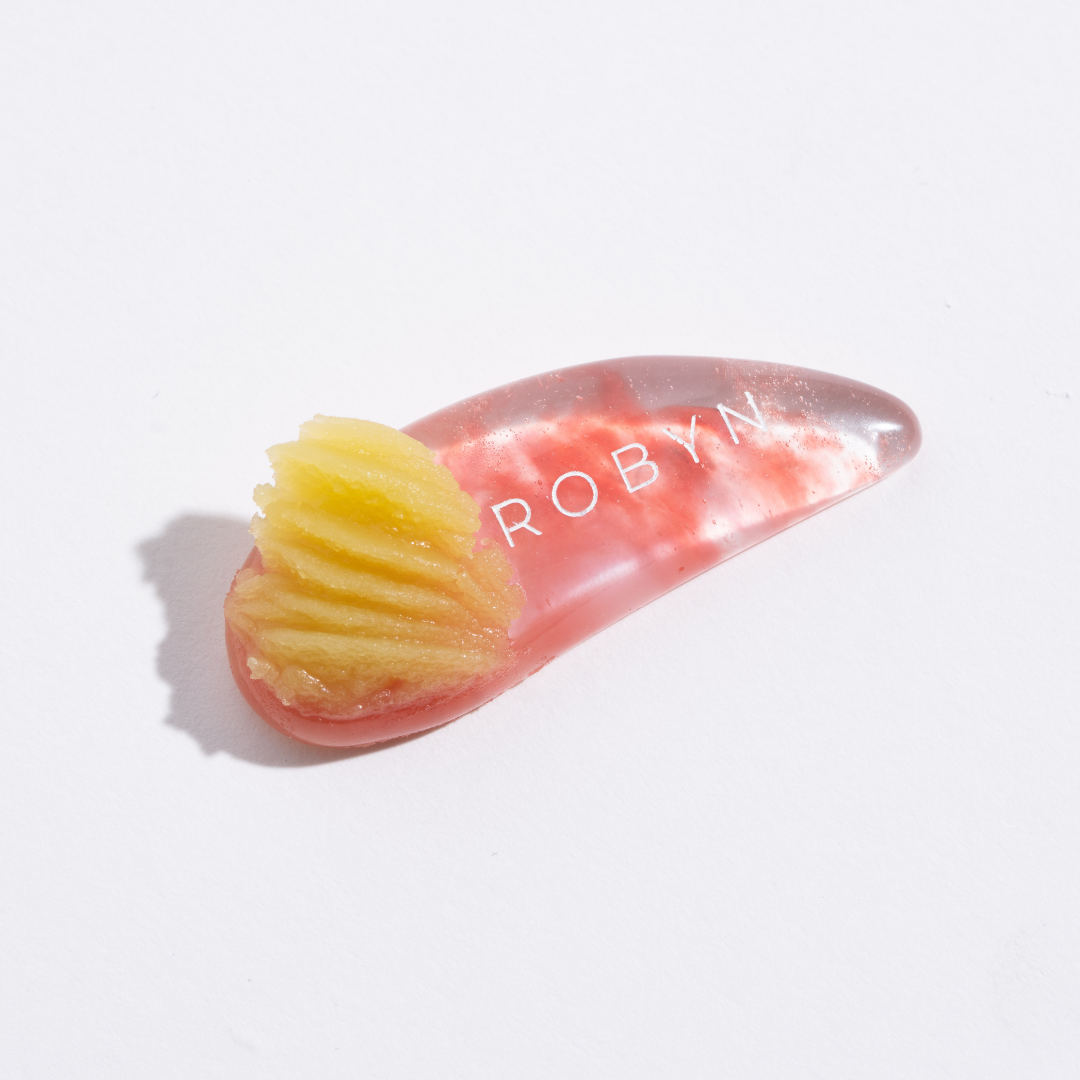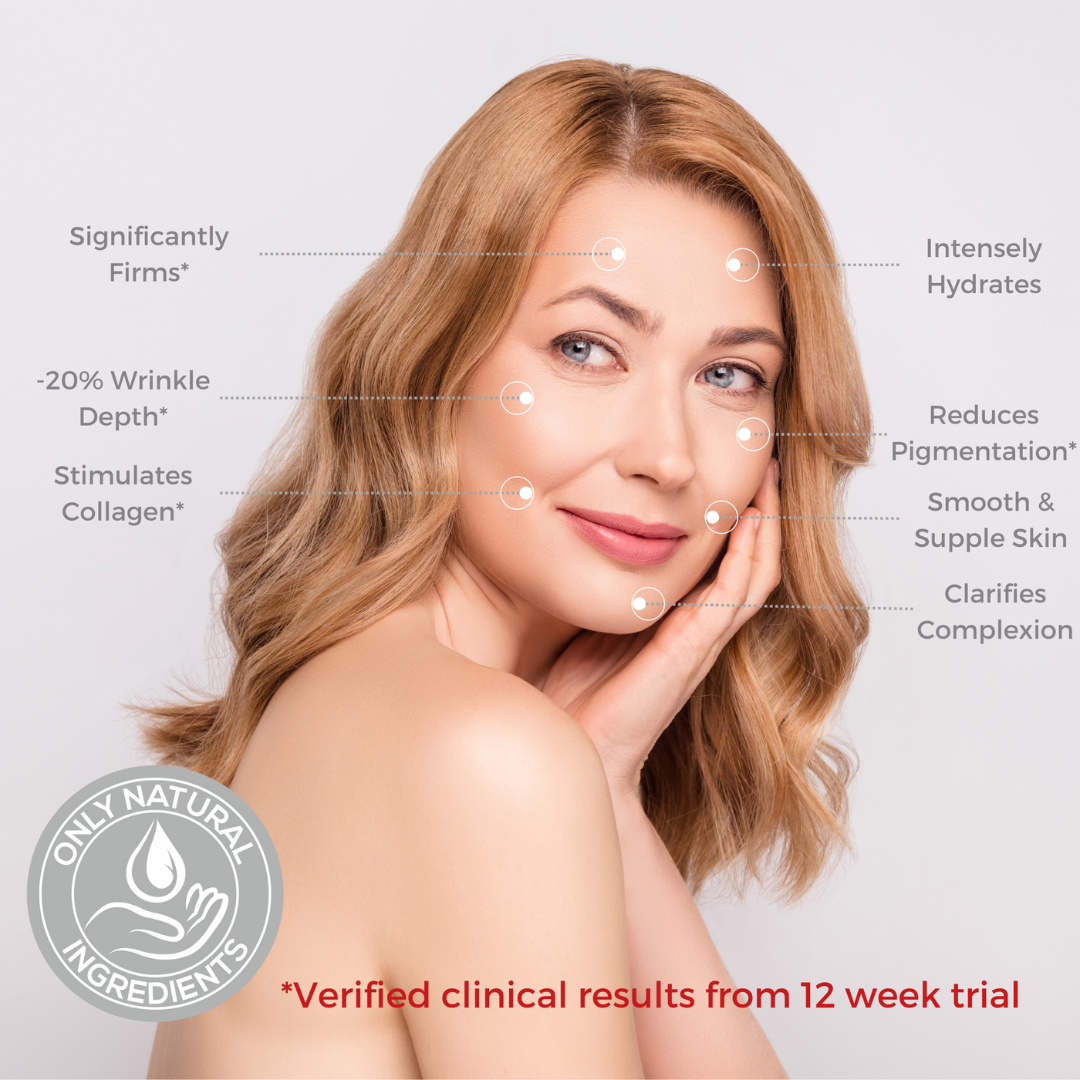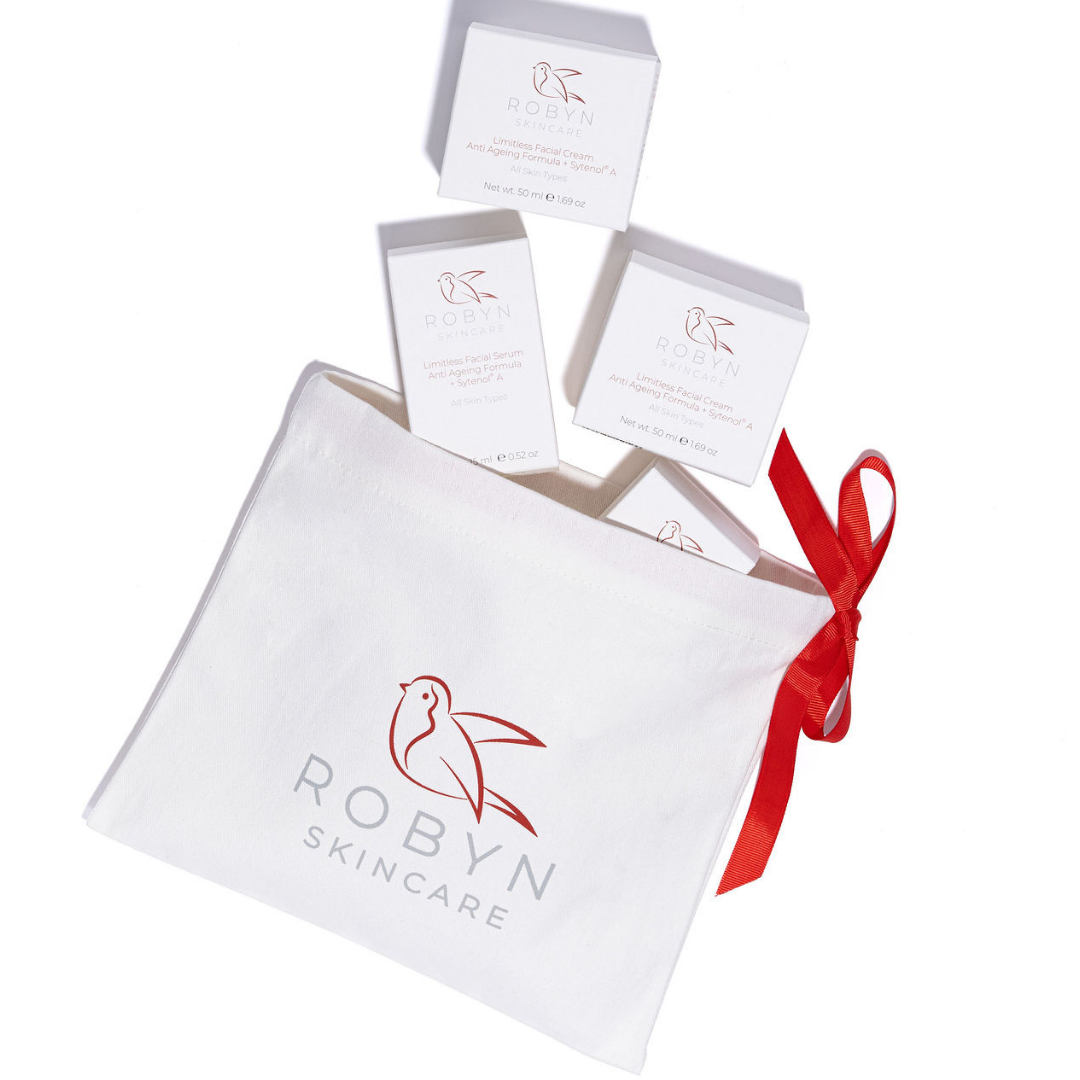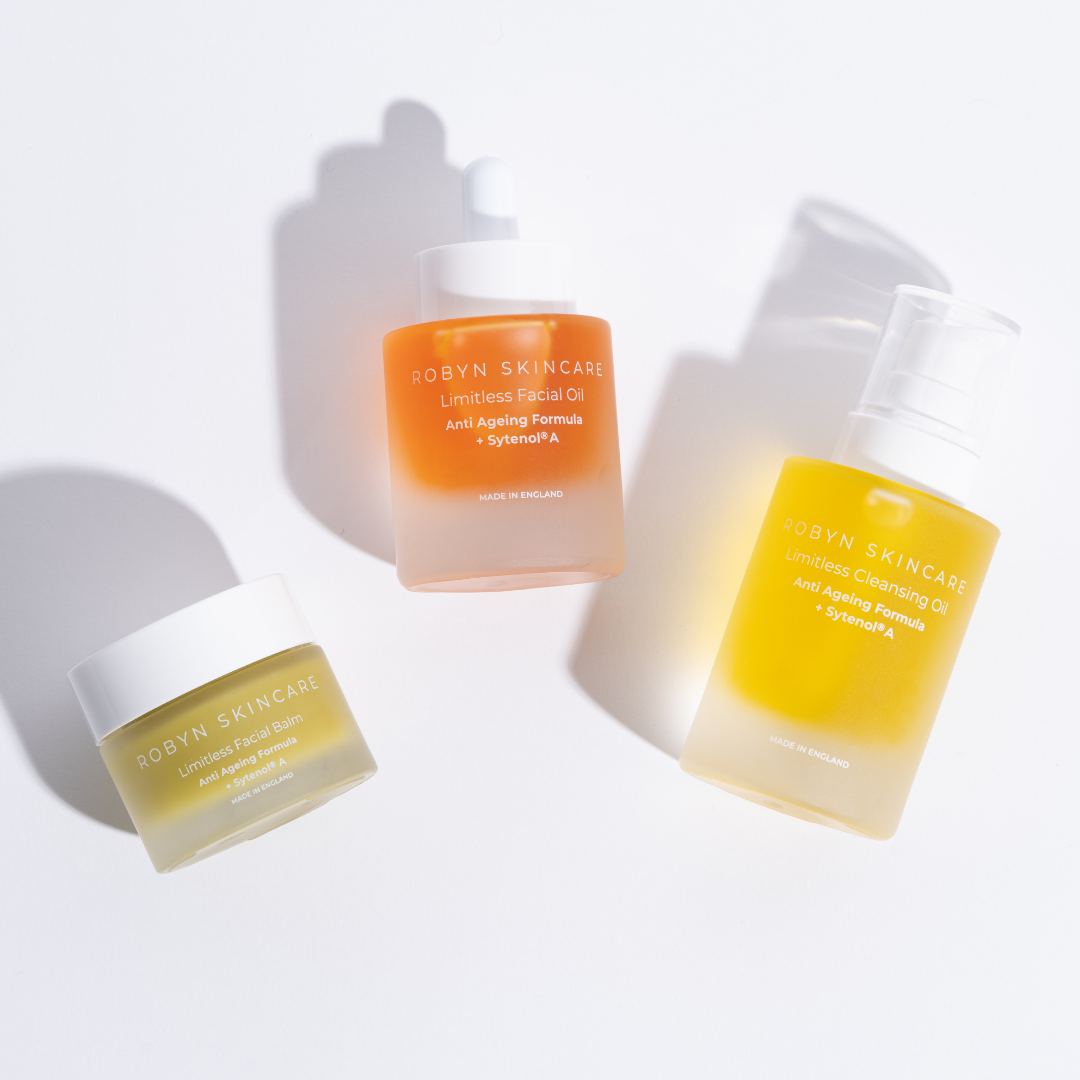 Limitless Facial Balm, Bio-Retinol Bakuchiol Formula - 30ml
all skin types
non-comedogenic
vegan friendly
cruelty free
Natural quartz applicator spoon included

FREE organic cotton beauty bag with your first order
AWARD WINNING & CLINICALLY PROVEN INGREDIENT
The double award-winning Robyn Skincare Anti-Ageing Limitless Facial Balm is formulated with a unique two-layered ethos; the completely natural, advanced and clinically proven bio retinol active Bakuchiol, plus a profusion of bespoke skin enriching botanicals. This philosophy provides customers with the best of both worlds; optimum results and skin health, with zero side effects or restrictions.
Sytenol ® A Bakuchiol, the plant-based retinol alternative, is clinically proven for its anti-ageing, restorative and complexion improving efficacy on par with retinol, and is even suitable for those with sensitive skin.
Reduces line & wrinkle depth by 20%

Significantly improves skin firmness and elasticity 

Evens out skin tone and reduces pigmentation

Reduces acne by 58% 

Safe for day-time application
SKIN NUTRITION, AGEING WELL & SKIN CORRECTION
This deeply soothing and protective natural face balm is your perfect year-round skin ally. Its bioactive ingredients quickly flood the skin with regenerative, calming and moisturising properties. This balm acts as a daily mask to protect from skin damaging free radicals, the physical elements, and is often used to treat dry skin patches, scarring, acne, and irritated skin.
Açai Fruit Oil

Its rich source of Anthocyanins and Phenols prevent premature skin damage, stimulate collagen and elastin, and restore skin moisture. 
Sytenol ® A Bakuchiol

increases type 1 collagen by 43% (25% more than retinol), improves dryness and roughness by 90%, smoothes out lines and wrinkles and delivers a more youthful appearance.
Cupuaçu Butter

The Queen of hydration effortlessly carries water into the skin and works at a cellular level to deliver true restructuring benefits to the skin barrier, combat oxidative stress and curb premature ageing.
Organic Grapeseed Oil

Its high content of Vitamin E protects against free radicals, softens the texture of skin, de-clogs pores, and gives skin a more plump appearance.
ESSENTIAL SKIN NUTRIENT PROFILE
This Amazonian superstar contains only the finest quality natural and organic botanical extracts, butters and oils. They include properties rich in: 
Vitamins: A, B, C, E & Selenium
Minerals:

Magnesium, Calcium, Copper and Zinc

Essential Fatty Acids:

Oleic, Palmitic, Linoleic & Stearic acid

Over 19 amino acids:

Tryptophan, Glycine, Tyrosine, and Phenylaline

PLUS high levels of powerful and protective antioxidants:

(Sytenol ® A Bakuchiol contains antioxidant power 60X stronger than a-Tocopherol and Resveratrol) alone.
SMOOTH, HEALTHY & YOUTHFUL LOOKING SKIN 
This fast-acting, luxurious face balm not only helps to rejuvenate and restore skin, but to nourish and protect skin from environmental aggressors e.g pollution, chemicals, harsh weather and UV light. The Limitless Facial Balm works as a true skin gatekeeper, leaving your skin looking and feeling smoother, firmer, and more youthful. Additional skin benefits include reduced acne scarring and pigmentation.
WELLBEING IS IN OUR NATURE
To us, skincare isn't just about results, but about taking some time out, and looking after the way you feel inside. To help promote a happy and healthy mind we've included a complex blend of woody, floral and citrus aromaceuticals including sandalwood, bergamot, and rose. Known to relieve tension, calm the nerves and settle the mind.
ALL SKIN TYPES
The Limitless Collection has been specifically formulated to treat all skin types, including dry, oily, sensitive, combination and acne prone skin. 
ALL & ONLY NATURAL
We believe that effective skincare doesn't require compromise in the form of harsh, toxic or controversial ingredients. We also choose trust over trade secrets, so always disclose our full list of ingredients.
FREE FROM
Artificial Colours

Artificial Fragrance or Parfum

Artificial Preservatives

Phthalates

PEGs 

Parabens
Vegan friendly and PETA certified cruelty-free
DIRECTIONS:
Apply 1 level spoon (provided) to a clean dry hand. Rub palms together to melt the balm. Massage gently into the face, neck and décolletage using an upwards motion. Can be applied day or night, but most prefer to use in the evening as a slugging product. This balm can also be applied to hands or elbows.
TIPS:
For best results apply after the Limitless Facial Oil or Cream.
We advise applying an SPF50 sunscreen product every day. For a chemical sunscreen apply prior to skincare, for a mineral/physical sunscreen apply as the last step in your skincare routine.
GENERAL STORAGE:
Please keep out of direct sunlight, and below 23 degrees C. If in doubt, store in the fridge. 
This is a natural, hand-poured product containing botanical butters. As a result, you may see blooming, crystallisation or variation in colour; in particular when exposed to changes in temperature in either direction during transit. Rest assured that this does not affect the performance of your product, and for a natural balm to react in this way is completely normal. In warmer climates and months your balm may melt in transit, so please ensure the jar is in an upright position when opening. If your balm has completely melted, simply stir with a clean spoon, and allow to re-set at room temperature (if below 23 degrees C), or place in the fridge. If your balm has partially melted, ensure the lid is secured tightly, and place the glass part of the jar in hot (not boiling) water for 20 minutes. Remove from the water in an upright position, dry the jar thoroughly and stir with a clean spoon. Allow to re-set at room temperature or in the fridge. Again, this process will not affect the performance of your balm.

INGREDIENTS:
Mangifera Indica (Mango) Seed Butter, Myrica Cerifera (Myrica) Fruit Wax, Simmondsia Chinensis (Jojoba) Seed Oil*, Argania Spinosa (Argan) Kernal Oil*, Threobroma Grandiflorum (Cupuaçu) Seed Butter, Vitis Vinifera (Grape) Seed Oil*, Euterpe Oleracea (Açai) Fruit Oil, Prunus Armeniaca (Apricot) Kernal Oil*, Squalane, Tocopherol (Vitamin E), Punica Granatum (Pomegranate) Seed Oil*, Bakuchiol (Sytenol ® A), Helianthus Annuus (Sunflower) Seed Oil, Santalum Spicata (SandleWood) Wood Oil**, Boswellia Serrata (Frankincense) Oil, Citrus Bergamia (Bergamot) Peel Oil FCF, Lavandula Angustifolia (Lavender) Oil, Rosa Damascena (Rose) Flower Oil, Jasmine Grandiflorum (Jasmine) Flower Extract, (Citral, Citronellol, Farnesol, Geraniol, Limonene, Linalool***), *Organic**Sustainably Sourced***Natural Components of Essential Oils
Limitless Facial Balm, Bio-Retinol Bakuchiol Formula - 30ml